8/7/2022
Mike of Bitfixer posted a summary covering 3 projects demonstrated at Brendan Donahe's table at Vintage Computer Festival West, including CoCoVGA. (Starts at 1 minute, 15 seconds.) Thanks, Mike!
4/6/2022
An early beta revision 0.1 release of CoCoVGA BASIC Extension patch has been made available! This enables access to the majority of the enhanced features of CoCoVGA without resorting to machine language, manual memory mapping, or pokes. The .DSK image can be found on the Download page. Documentation is also available.
8/22/2019
We've sold our 100th CoCoVGA installation kit!
6/5/2019
The Original Gamer Stevie Strow has done a video review of his CoCoVGA installed in his TDP-100!
5/4/2019
CCVEDIT, the CoCoVGA character set editor, has won Diego Barizo's Asimov Awards for Best Compiled or Assembled Project at the 2019 CoCoFEST! Thank you, Diego and Glenside TRS-80 Color Computer Club!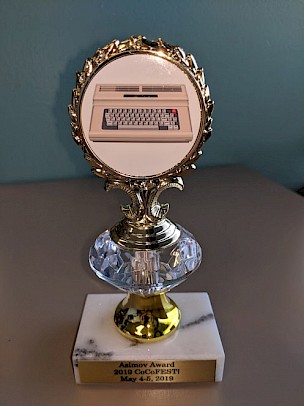 CoCoVGA was demonstrated at CoCoFEST 2019 by Brendan and Morgan with two CoCo 2s, one with a T1 and one with a standard 6847.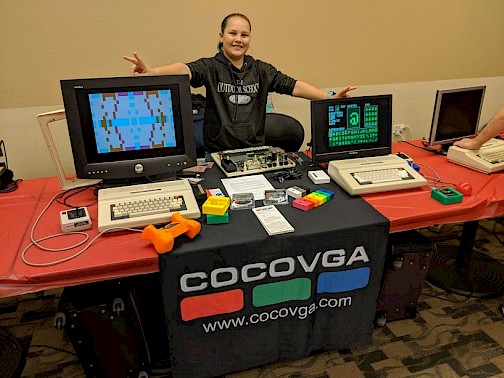 11/13/2018
CoCoVGA now supports the 6847T1! There is a particular board type and FPGA design that is compatible. Boards are in the process of being assembled and early releases have been installed in some users' systems.
4/21/2018 - 4/22/2018
CoCoVGA is now an "award winning" product! It was voted "Most Useful New Product" at the 2018 CoCoFEST! Thank you, Glenside TRS-80 Color Computer Club and all of the people in the Color Computer community!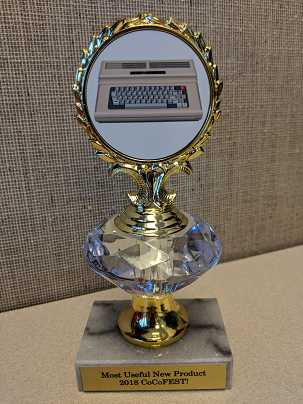 CoCoVGA was demonstrated by Brendan on an NTSC Color Computer 2, Color Computer 1, and Tano Dragon, and a PAL Dragon 32 at CoCoFEST! 2018 in Lombard, IL at the Heron Point Convention Center.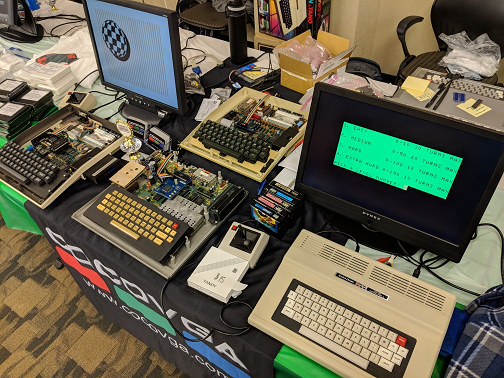 Revision 0.89 of the CoCoVGA FPGA was announced at CoCoFEST! 2018, adding software-redefinable character set support to both the 32-column and 64-column text modes. A short presentation performed via a CoCo 2 can be found here.
Also at CoCoFEST! 2018, Boisy Pitre made available a propsal written by Brendan and Steve regarding a possible approach to adding sprite capabilities to CoCoVGA. This paper can be found here and here.
CoCoVGA kits for revision B board CoCo 2s are still available!
2/10/2018 - 2/11/2018
CoCoVGA was demonstrated by Brendan and Steve on an NTSC MC-10, NTSC Tano Dragon, PAL Dragon 32, and NTSC Color Computer 2 at Vintage Computer Festival Pacific Northwest at the Living Computer Museum + Labs. PAL Dragon 32 was generously provided by David Linsley.
11/17/2017
Another round of CoCoVGA kits have been shipped to many of the folks on our waiting list.
10/9/2017
Unfortunately, all CoCoVGA kits are sold out. The good news is that Ed has more bare boards on order and is working on cables in the meantime, so another run will be made available. In the meantime, feel free to contact us about compatibility or get on the waiting list at info@cocovga.com.
10/7/2017
Ed Snider has made a run of boards and they are available for the CoCo 2 rev B mainboard and Tano Dragon! See me at Tandy Assembly in Chillicothe, OH this weekend or contact us at info@cocovga.com.
5/8/2017
A new video of the CoCoVGA 64-column text mode has been posted to YouTube, here: https://www.youtube.com/watch?v=F6yw1nHYpTc&t=4s
3/12/2017
New videos have been posted on YouTube of the CoCoVGA mode demo. This demo demonstrates software control over some of the more useful CoCoVGA modes. You can find them here: